Corporate Art Workshops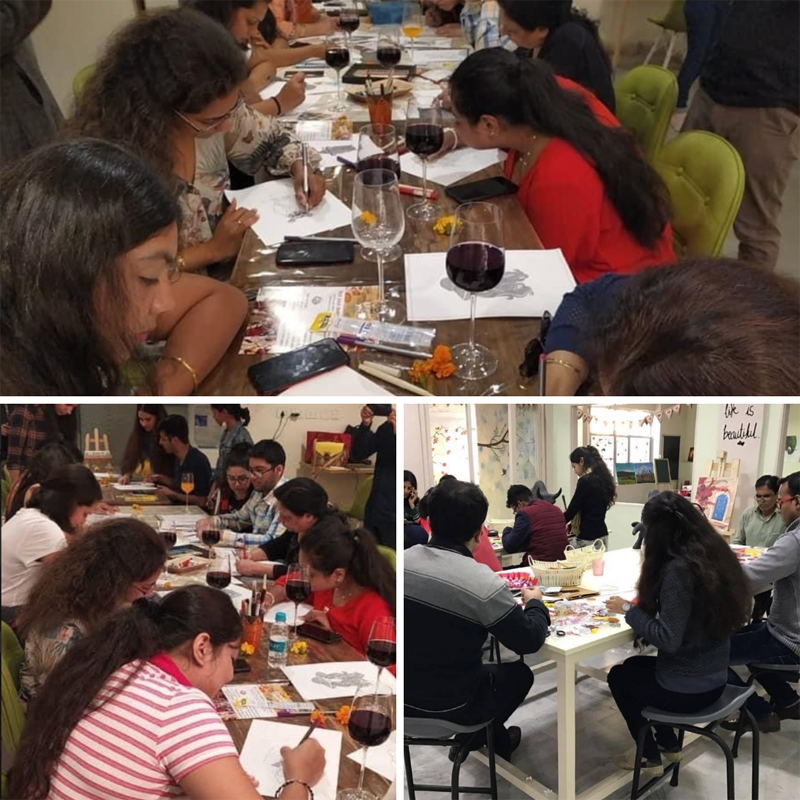 If you are looking for a unique experience for your employees, stop right here. Art lightens our hearts, reduces stress, is an effective communication tool, and brings people together.
Corporate Art Workshops majorly focus on imparting relaxation and relieving the stress of the employees with the creative process we follow. The activities conducted at the Corporate Art Workshops not only help the employees to vanish the stress-busting cells but also help the employees to socialize among themselves, understand the system of working in groups, and organising themselves for quality work and increased performance.
The workshops, set in an informal environment arranged in your premises/office are tailor-made to suit the requirements of your organization. The objective of the day is to give participants an appreciation of individual differences and approaches to
problem-solving and to use techniques that develop the creative side of the brain. In addition to the other benefits, each participating individual ends up with a piece of art of which he or she will be proud.
Are unique, creative, and hands-on.
Conceptualized and customized to suit corporate needs.
Improve an individual's sense of ownership and inclusion in an organization.
Promote creativity at the workplace.
Improve an individual's self-esteem and motivation.
Improve teamwork and communication by working together as a group.
Cater to various creative domains to suit different corporate themes like
environment, festive, kids' day at work, and more.
Unlock creative thinking and have an impact on problem-solving ability.
Imparted by our team of expert professional Art teachers.